Travelling Mabels performing in Vauxhall
Posted on September 1, 2016 by Vauxhall Advance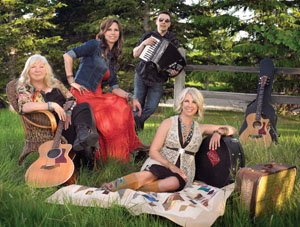 (Photo submitted) HARMONY: The Travelling Mabels — (left to right) Eva Levesque, Lana Floen, Keith Floen and Suzanne Levesque — will be performing in Vauxhall at the Jets Stadium on Sept. 9.
Vauxhall Advance
njamieson@tabertimes.com
In their debut Vauxhall performance, the Travelling Mabels will be singing for the fences.
The Travelling Mabels are a country/folk group who began performing together eight years ago. While all four are from Alberta, they didn't start singing together until one night in Winnipeg, eight years ago. Suzanne Levesque had been nominated for the Association of Country Music in Alberta's Bass Player of the Year award, and she and Lana Floen had travelled to Winnipeg together, where they met up with Suzanne's mom, Eva Levesque.
"We were all friends prior to, sort of. We were musical friends," said Lana, guitar player and singer in the Travelling Mabels.
"While we were there, we were asked to get up and sing together, and we had never sang together. But we decided we would, and we got up and by the time we were done we had about three cards from people, and we really felt that the harmonies were really quite good. So, we just knew there was something special there."
Joined by Keith Floen, their music naturally lends itself to storytelling, working in with their different musical backgrounds and experiences. Since the group's founding, they have been named the 2011 Group Of The Year by the CCMA, and have toured throughout Canada, performing and telling stories.
"We do a variety, because we know our audiences like variety. And we all came from different musical paths," said Lana.
"That's really the sound of the Mabels. The foundation is the three-part harmony, and they're story tellers," said Keith. "Everyone likes to write their own music, so we have lots to tell. Everyone has a story or likes to write some sort of a story."
The group consists of four members; Eva (Mama Mabel) on vocals and guitar, Lana (Purdy Mabel) on vocals and guitar, Suzanne (Baby Mabel) on vocals and bass and Keith (Unstable Mabel) on piano, accordion and accompaniment.
"It's just something that happened, I think Eva started it," said Keith, of the origin of the group's nicknames. "She would call Sue 'Baby Mabel' and she would call Lana 'Purdy Mabel', and they would call her 'Mama Mabel'. And surely, they had to give one to me."
"Apparently, I'm 'Unstable Mabel'. Perhaps well earned, who knows," added Keith with a laugh.
The group knows Taberite Corbie Dorner, who will be opening for them during their debut Vauxhall performance. Keith and Dorner had worked together doing piano work in Calgary, so when Dorner's uncle was working on organizing the event, they all agreed that Dorner would open.
"(Dorner's) a wonderful, talented artist in his own right," said Keith.
The Travelling Mabels will be in Vauxhall on Sept. 9 at 7 p.m., where they will be performing at Jets Stadium.
In addition to covers of songs everyone knows and loves, they will be featuring songs off their latest album 'Postcards', which is available online and on iTunes.
"The love of the music, really it's just something you have," said Lana.
"It's looking out and seeing their faces and that connection," said Keith, on performing. "Especially with each of them being a storyteller, when you can connect with people and see they're relating, they're going along on the ride with you, that's first and foremost.
"Bringing people laughter and the enjoyment of music, that interaction."
The Travelling Mabels- The Travelling Mabels Album review

ALLISON BROCK FROM CKUA 
WIDE CUT COUNTRY/BACKROADS COUNTRY CD REVIEW IN THE CANADIAN COWBOY MAGAZINE 
October / November publication

If you love great songs with superb female vocal harmonies, then this debut CD should be in your collection.
Eva Levesque, daughter Suzanne and friend Lana Floen share most of the writing credits along with lead and harmony vocals that blend perfectly, creating a very smooth flowing sound on every track.
All of the tracks are played plain and simple with the guitar, bass and banjo as the main instruments. These are supplemented tastily by several other musicians, including Ian Tyson's long-time band members, The Two Gords, (Maxwell and Mathews)
Ian Tyson himself adds his raspy vocals briefly (along with the ladies) on a wonderful song penned by Pat Hatherly and Jim Lewis. The resulting Alberta Blue is definitely a highlight track on the disc.
Any fan of Linda Ronstadt, Emmylou Harris and Dolly Pardon's collaborations should enjoy this Alberta grown trio.
 
WFHB Music - Bloomington Community Radio
WFHB Music Department - 91.3 FM for South Central Indiana - 98.1 FM in Bloomington Indiana

SUNDAY, APRIL 4
Cathi's CD Reviews 4-4-2010   posted by Cathi N @ 11:15:00 AM

Traveling Mabels, the – "Traveling Mabels" (Traveling Mabels Rec.) B+

Three Canadian lasses gather very talented musical friends and put out a first album, ripe with tight and beautiful harmonies, excellent musical arrangement and a sense of humor in songs reflecting their lives and experiences. "Smolder Blues," for instants comically laments maturity forcing the singer to smolder, not burn. Many other tunes are about relationships and "Alberta Blue" is a tantalizing love song to their native Canada. Very easy on the ears, and good for all mixes. I'd call it Americana but these gals is Canadian!
The 2011 Association of Country Music in Alberta Awards - press release

Red Deer, AB – The 2011 Association of Country Music in Alberta Awards was hosted in Red Deer this past weekend at Westerner Park. Several awards and recognitions were handed out to some of the best in Alberta's up and coming country music scene. With over 200 artists, industry members, and fans alike in attendance for the 1st Annual gala – the country music scene was apparent! "We are privileged to have such a unique foundation of country artists in the province ranging from folk and bluegrass to country rock. As an Association, this was our opportunity to showcase these artists to industry members as well as fans throughout Alberta," says ACMA and Royalty Records President, Rob Smith.

Awards on Sunday were handed out in five different categories:

2011 Male Artist of the Year – Shane Chisholm - Claresholm, Alberta
2011 Female Artist of the Year – Tenille – Grande Prairie, Alberta
2011 Group of the Year – The Travelling Mabels – Calgary, Alberta
2011 Fans Choice Award – MYROL – Edmonton, Alberta
2011 Hall of Fame Inductee – Harris Dvorkin, Ranchman's Cookhouse & Dance Hall

Following the awards show, guests were invited to a jam session hosted by Alberta's own KixxSin which showcased the other award nominee's.

A special thank you to 2011 CCMA Group of the Year, Hey Romeo, who hosted the evenings show, as well as, a big thank you to our presenting sponsor: Ranchman's Cookhouse & Dancehall Inc. and our other show sponsors: Westerner Park, Travelodge Red Deer, Live Events Concerts & Promotions, Exposure Productions, Rayacom Print & Design and Andrew Peller.

For more information, we invite you to visit our website at www.abcountrymusic.ca or 'like' our page on Facebook.

Our mission: To develop, nurture and promote Alberta Country Music and its Artists and to support the Alberta Country Music Industry and its Alberta based companies to the best of our ability.
 Entertainment Big Valley Jamboree




The show must go on


By CRASH CAMERON, EDMONTON SUN
Last Updated: July 31, 2010 9:43pm


Hello, Mable. They named the act after a hound dog — one of those Blue Suede Heelers. But the Travelling Mables are no rockabilly act. More Emmylou than Elvis. More like the Travelling Wilburys — you know, if they were girls. The mother, daughter and best-friend act sang a smart, sunshiney opening set on Saturday. I call them Matthew and the Mables, but that's another story.
see full article
david.cameron@sunmedia.ca
The Travelling Mabels three generations, three voices- By Spencer Brown
Beatroute Magazine - Spencer Brown
view this article

The Travelling Mabels, an all-female trio comprised of mother-daughter duo Sue and Eva and friend Lana, are about as Albertan as you would expect. Starting out casually in the fall of 2008, the three-piece played a record industry party at the Canadian Country Music Awards and, as Lana puts it, "had three business cards before we'd even left the stage."

With this early praise, the Mabels kept practicing and writing original songs, and had their eponymous first album out by June. The Travelling Mabels drew on their varied influences such as Emmy Lou Harris, Dolly Parton, Patsy Cline, early Sheryl Crow and Sweethearts of the Rodeo. With their vocal harmonies and instrumental abilities, they were able to pen eleven tracks with a few focusing on the blues. "Eva wrote them, but they're about other people's blues – we don't get the blues!" laugh the Mabels. Also on the album is a guest appearance by Ian Tyson. Lana and Ian share a common bond: Lana's husband, who functioned as Tyson's keyboard player.

Lana and Sue reveal that their formula thus far has been a success. "We've done fantastically; we've sold out of 1,000 CDs so far and have even charted in the States. People are loving it and it's nice to get a fan base right from the start."

For those ladies looking to start, or jump-start, the way the Travelling Mabels have, they recommend "doing what's right for you and learning an instrument so you have musical knowledge. That way, you grow as your own artist rather than depend on other people."

While there are those that wonder what it's like to play in a band with your mom, it's nothing out of the ordinary for Sue. "On a cross-Canada trip, we always played music together, so there's a chemistry between us. We dig at each other and have a back and forth, but it's never malicious," Lana agrees, stating, "We're three generations of women and we all bring something to the table. That makes everything we do pretty cool."

The future promises a second Travelling Mabels album which "will be recorded in our basement with my husband," according to Lana. "(It) will be more roots and acoustic than our first album as we're going to focus on our vocals." Further, the band wants to focus on "building a solid fan base, getting a booking agent, touring and playing something the size of the Jack Singer if we could."

The Travelling Mabels credit those around them for "making our work easy to do with their support," and fans who have helped sell out shows in such locales as Black Diamond, Turner Valley and Pincher Creek's Cowboy festival. They encourage those unfamiliar to "see the show; we love to meet new people." 
Letter of Intro - The Travelling Mabels

April 27th, 2012

TO: Whom It May Concern

FROM: Jope Langejans
Forestburg Concert Series
Box 22, Forestburg, AB.
T0B 1N0
(780-582-3952) or forestburgconcertseries@persona.ca

I have been invited to forward a letter of what I can only call "awesomeness" for 'The Travelling Mabels'. They had played in our community a week ago and folks are still talking about them and how much they felt that this had to be one of the best concerts they had ever seen in the 23 years of our existence as a concert series. Many folk commented that we needed to bring them back next year, if possible, and these sorts of requests do not come lightly but with a deep conviction of what they saw and experienced on stage. Their music is true to Alberta, true to the prairies, and with a reality that harmony, humour, and musical professionalism is what draws crowds into their world and into their realm of touching hearts wherever they perform.

I would never hesitate to have them grace any of your stages and have your fans leave with a feeling that they've been touched with something much greater than what could be expressed in word. They are fabulous, fun, real, and more importantly, know how to bring music into every heart – into every soul. The Travelling Mabels are truly on the go and truly on the move! You will be delighted!


Yours sincerely,

Jope Langejans

c/o Forestburg Concert Series